Exciting Finds at Barry Buddon World War One Training Trenches
Readers of South Angus local newspapers will have seen in recent weeks articles covering an exploratory dig undertaken at the World War One training trench system at Barry Buddon. The dig was initiated by Mr Philip Abramson, Archaeologist, Environmental Support & Compliance of the Defence Infrastructure Organisation (DIO), the MOD's Department which plays a vital role in supporting our armed forces by building, maintaining and servicing the infrastructure needed to support defence. The work was supervised by archaeologists from Wessex Archaeology, the trusted market leader in the provision of quality archaeological and heritage services, delivered from a UK wide network of offices including Edinburgh. Assisting the archaeologists in the dig were personnel recruited under  a ground-breaking military initiative known as Operation Nightingale; a project which utilises the technical and social aspects of field archaeology to aid the recovery and skill development of service personnel and veterans who have been injured in conflict. A third charity Breaking Ground Heritage was also involved. They work closely with (and on) Operation Nightingale projects and specialise  in the recruitment of the service and veteran participants via its wide network of contacts amongst military and veteran support organisations.
 Four locations were identified by the archaeologists as worthy of close examination:- a machine gun trench, a  front line trench, a communication trench and a metal domed construction (not immediately recognised) but large enough to provide cover for up to two soldiers. At first this was thought to be a WW2 vintage Allan Williams Turret (a pre-fabricated steel defence structure designed to be manned by two men with a machine gun) but was quickly discounted after it was discovered the construction was not bullet proof! A more likely explanation being it was some kind of beacon!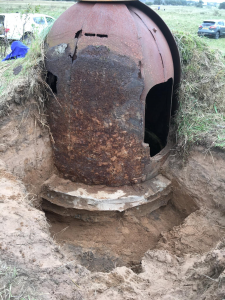 Each site was carefully mapped and excavated down to its original depth. Amongst the items recovered were various bullet types, the oldest from a Martini Henry rifle dating back to The Anglo-Zulu War, fought in 1879 between the British Empire and the Zulu Kingdom. All  trenches showed clear signs of collapse, only to be expected given their age and the sandy nature of the ground. It was thought unlikely the trenches were dug at the same time as a complete defensive position. Rather they were added to at various times as an ongoing training aid.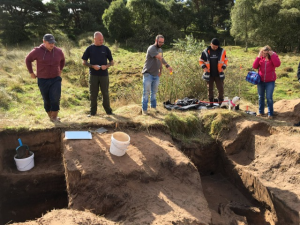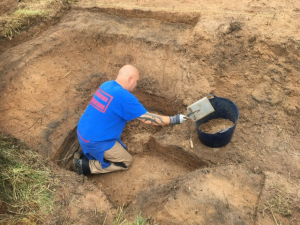 The Friends of Barry Buddon section of CCDT were kindly invited to visit the dig on its penultimate day.  A group of eleven, including seven senior history students and a teacher from Carnoustie  High School, spent a most interesting morning meeting the Operation Nightingale veterans, and being briefed by the archaeologists from Wessex Archaeology and Breaking Ground Heritage. With much of the site still to be explored, it is hoped a further Operation Nightingale dig will be undertaken at Barry Buddon next year.
---